Litigation support technology is advancing just as fast as the rest of the technology around the world seems to be. There are countless functions that exist now, that may not have existed years ago, and are making litigation technology a more necessary and useful enterprise for attorneys and their clients. However, the span of knowledge and discovery that accumulates throughout litigation can often be too much information to sort through in such short order. So let's investigate further how litigation support technology is working to solve that problem.
The Facts
According to the American Bar Association, in 2011 the average person in the United States produced 2.5 GB of electronically stored information every year. This number is only on the rise. According to a blog written a month ago by Data on the Edge, businesses are witnessing data double every 14 months.
As times and technologies have changed, now over 93% of information used in law cases will come from electronically stored information. Emails and attachments are the leaders in electronically stored information (ESI), for most matters. In fact 60 billion emails are sent around the world daily. Loose Office files and proprietary extensions are always a consideration and can exist just about anywhere.  Finally, social media is quite a hotspot when it comes to sharing case-scope related information. And all are discoverable and should be considered for collection and potential review. While these numbers are very impressive and pose a huge pool of potentially responsive data for attorneys, it also poses challenges that didn't exist as much several years ago. A challenge of sorting through all of the data. This challenge doesn't only initiate a time burden, it may initiate a financial burden as well to organize and review the mass amount of data. The solution? Continuous Data Culling.

Data Culling
Assuming a good and proper data mapping, identification and consultative collection is conducted, the litigation support team can assist in continuous methods for culling the data set post-collection.  The basics of data culling began by removing any duplicate information that existed among the electronically stored information, and searching the data using key words and phrases. At this stage, the data was also sorted by the litigation support software and prioritized based on the date of the information. The first solution to sorting through the mass amount of data, was to simply reduce the amount of ESI returned to attorneys post search. However, this method came with potential flaws, as serious consequences arose from leaving out important data, relevant to a case.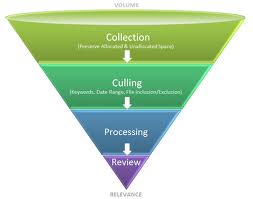 Luckily, the process has developed more and more over the years. Today, litigation support software has gotten so advanced that it can sort ESI not only by date and pointed key words, but by email threading, near-duplication, text and concept analytics, domain tallying, and other technology assisted review procedures, like predictive coding – all while integrating more simplistic culling measures that are still used, like; advanced BOOLEAN, proximity and wild card searching, metadata filtering, and more, as proportional to your case at bar. In other words, there are no longer just simple filters and search term limitations for culling your ESI, there are now heightened measures that the attorney can take, with the consultation of a litigation support provider, that can make the data much more interactive, case-driven and accurate. With this kind of technology, attorneys are legally secure in their decision to isolate certain data and can defend this in court.
Basic data culling used to be able to reduce electronically stored information by 40% to 50% and although this was effective, it still left a large margin between the recall and its precision. Current litigation support technology can reduce data sizes by 80% to 90% on a continuing basis, from pre-processing through document review and production. Clearly newer legal technology is more effective and can save significant amounts of time and money. Litigation support technology has countless abilities. It has the capacity to perform advanced data culling and analytics, in depth reviews, customizable review platform interfaces, and the assembling of court presentations. This type of software is becoming a necessity for attorneys everywhere.
The important thing to remember is that no two cases are identical, and a well thought-out discovery plan, proportional to case-scope, exposure and deadlines, should be established from the start.  The legal technology is only as productive as the people and processes involved.   If you are an attorney and looking for effective litigation support, give us a call today at Litegation. We're ready and available to provide a consultation regarding any of our possible services.
Bellas, George, and Elizabeth Fogerty. "Culling Data for Your Case." American Bar Association. N.p., 4 Nov. 2010. Web. 07 Oct. 2015.
"E-discovery Solutions." Salixdata. N.p., n.d. Web. 7 Oct. 2015.
Wheaton, Christ. "Four Criteria for Legal Hold of Electronically Stored Information (ESI)." Data on the Edge. N.p., 3 Sept. 2015. Web.